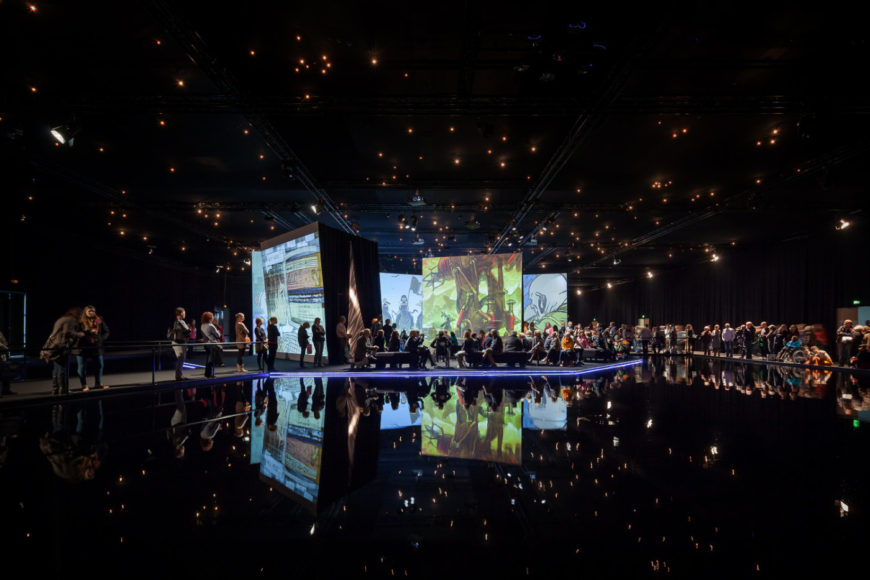 Working for The New Zealand Ministry of Culture and Heritage, Inside Out Productions collaborated with architecture firm Pattersons and Associates to design the New Zealand pavilion in Frankfurt. Our contribution was to introduce key elements such as the flooded room, the stars above, the rain, the moon and the live actor that interacted with the set.
It was the most popular Pavilion in the history of the Frankfurt Bookfair with an estimated 90,000+ visitors.
As Creative Directors our role also included writing and directing the pavilion's 20mins multi-media experience which attracted so much media and public attention. Written in consultation with Witi Ihimaera, Emily Perkins and Paula Green, it celebrated Maori storytelling, NZ Poetry, Fiction, Graphic Novels and Children's Books, along with our stunning landscape, which such an inspiration to our writing.
In the breaks between the live performances by Matu Ngarapo that formed part of the multi media experience, we presented works by celebrated visual artists Ann Shelton, Jae Hoon Lee, and Fiona Pardington.
Inside Out also project-managed and produced the entire event in Germany drawing on 25 years experience producing work internationally.